Frequently asked questions about Massey products.
How do I sign up for The Massey App™?
Call (757) 340-7800 for information on how to get started using The Massey App™.
What platforms are The Massey App™ available on?
The Massey App™ and Tenant Shield™ are available for download on all iPhones and iPads via the App Store, and on most Android devices via the Google Play store. Users can also add and update building information and documents or manage users from the client portal
Is there a Quick Start guide?
Download the Massey App Quick Start guide (PDF) for an overview of getting started.
What are the symbols at the bottom or top of the screen, and what do they do?
On an iPad, iPhone, or Android device, you'll see a set of four icons toward the top or bottom of your screen. Here's a quick overview of what these icons do:
Standard messaging
Reminders
Weather Alerts (where available)
Search
Do you provide 24-7 technical assistance
Support is available by emailing support@disasterplanning.com or calling (757) 295-8602. Support is available Monday-Friday 9AM - 6PM eastern time.
What does each section do? What will I get out of each section?
The "Emergency Events" section provides informed articles, written by subject matter experts, with information on recommended courses of action to take during emergency events.
The "Emergency Messages" section allows you to send emergency messages via phone texting (160 characters maximum) to all personnel associated with your building's subscription.
The "Pre-Plans" section gives you access to a digitized version of the Pre-Fire/Disaster Plan, if your building has one. If not, please contact Massey Enterprises for further information at (757) 340-7800.
The "Operations" section allows you to change your building's configuration settings, access and manage user accounts, update your building's contact list, hazardous materials, and building fixtures, as well as view evacuation routes. You can also manage your building maintenance tasks and view preventative maintenance documents.
Whom can I contact for help or support?
For technical assistance with The Massey App™, please contact (757) 295-8602 or support@disasterplanning.com. A technical issue is when the app does not function properly or in the manner expected, or if you cannot figure out how to operate or access a certain function.
To provide recommendations for improvements, or if you discover an issue in the content of the app, email mei@disasterplanning.com.
Queries received before 5:00 pm (ET) will be replied to by 5:00 pm the following business day.
What if I forget my username and password?
Click the "Forgot Password?" link on The Massey App™ login screen, or contact your manager to reset your password.
How do I get a pre-plan for my building?
You may contact Massey Enterprises at (757) 340-7800.
Why am I getting weather alerts? The sky is clear and beautiful.
Weather Alerts are received based on the location of the building you are subscribed to as well as your device's current location, if location services have been enabled on your device.
How often is content in The Massey App™ updated?
The Massey team is constantly improving and updating articles, adding new content on a monthly basis. The Massey App™ is set to search for new information every 20 minutes. This synchronization is done automatically if you device is connected to WiFi or has cell signal. Once this process is complete all building information, building schematics, and articles will be updated with the latest information.
A link says "content pending," but I'm sure I saw an article with that title somewhere else.
We try to keep our content as current as possible. We edit, update, and add new articles frequently. This process requires us to remove and re-install content, so on occasion you might not see an article that was previously in the app, but it will be re-installed once the update process is complete. If you observe a prolonged issue of this nature, email mei@disasterplanning.com.
What is the difference between emergency messages and regular messages?
Emergency messages use phone texting (160 characters maximum) to relay your message to all personnel associated with your building's subscription. For example, "Please exit the building immediately."
Standard messages are sent to every logged in user on your building's subscription or to a select group of those users. It typically takes about 5–10 minutes for a standard message to arrive. A standard message has an expiration date and will stay in the recipient's messages section until it expires. An example of a standard message is, "The front lobby doors will be blocked due to construction for the next 30 days. Please use side entrance."
I sent a message, but can't see it on my device.
The standard messaging system is designed to work like a Public Announcement system (all-call). It sends the information out to everyone but is not a two-way communication device and cannot respond.
What rights and permissions do the different user tiers have?
View an overview of the user tier permissions.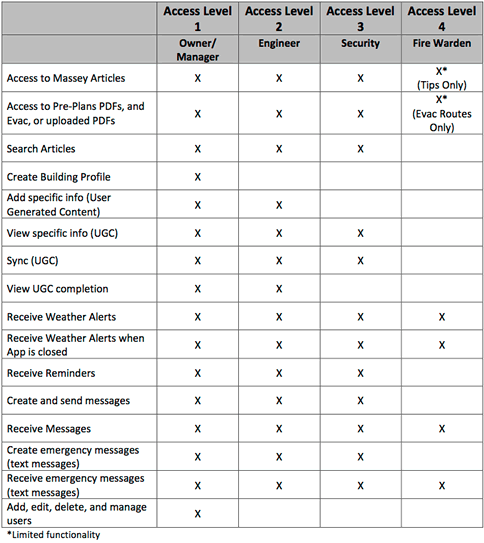 Do I have to purchase a Massey Plan in order to purchase The Massey App™?
No, but we highly recommend the Massey Disaster Plan, or other very high-quality graphics, to enhance your experience. You can also purchase select key documents and risers from Massey Enterprises.
I have a small building. Do I need a preplan or just the App?
All buildings, regardless of size, should possess the mobile App so everyone knows what to do in an emergency. However, even a basic preplan is vital, not only to populate key documents within the App calling for shutoffs or floor plans, but also to have crucial base building data available to first responders.
What if I suddenly decide to terminate a staff member who has The Massey App™ on their personal device(s)?
You can visit the User Management section in The Massey App™ to disable, or even delete, their account. The next time the terminated staff member attempts to access the application (with a sufficient connection to the Internet), the application will lock them out and all of the data will be erased from their device.
What if a device is lost that contains The Massey App™ with key building info?
Since each instance of the application is tied to only a single user, if a device is lost or stolen, you may disable the affected user account through the User Management section in The Massey App™. You may also reset the password for the affected user. Since the lost or stolen device will not contain the new password (or the account is disabled), attempts to access the application will be denied and all data will be removed from the device.